If you want to fully enjoy the sights and nightlife of Vilnius you can not neglect the search for a central, from which you will have everything at your fingertips. We see the apartments and hostels of the old town of Vilnius.
Vilnius apartments and hotels: where to sleep in Vilnius
If you let yourself lose apartments and pointed at hostels or hotels. If you're in the company of the apartment you can reveal very convenient. However, solutions are found for all budgets and all tastes as Vilnius offers a wide variety of apartments, hostels and hotels.
Where to stay in Vilnius
The best area where alleggiare in Vilnius is around Pilies Gatve, the way of the old town and the square of the Basilica of St. Stanislaus leads up to the town hall in Didzioji Gatve, passing through the area of ​​the university. This is the strategic area, that is close to the main attractions and museums, both nightlife. In alternativa considerate anche la Gediminas Avenue, German street e la streets of Vilnius, other area of ​​Vilnius with many clubs and pubs.
See discos and pubs of Vilnius where to party and how to get to the center.
Apartments in Vilnius
In Vilnius there are many apartments and guest houses and there will be difficult to find the accommodation that suits you. The main sites with which to search the apartments are:
WIMDU: http://www.wimdu.com
AIRBNB: https://www.airbnb.it/s/Vilnius–Lithuania
VILNIUS CITY APARTMENTS: http://vilniuscityapartments.com/
For the excellent location is carefully decorated I strongly recommend the apartment Algis:
Algis studio apartment (Stiklių gatvė, Vilnius)
Located just a short walk from City Hall Square, The apartment consists of a small attic attic. The apartment is for two people and is small but very cozy. Tested and approved for you. Price 60 EUR per night.
Other apartments in the center of Vilnius:
Stylish apartment (Didzioji Gatve , Vilnius)
Situates in Main Street, in an excellent position. Price 37 EUR per night.
Cozy Apartment in Heart of Old Town (Latako gatvė, Vilnius)
Great apartment near the town hall. Price 54 EUR per night.
Sergej Apartment (Šv. Jono gatvė, Vilnius)
Apartment located near the University of Vilnius. Price 42 EUR per night.
Chatedral square apartment
Apartment cute and economic, located close to the cathedral square. Price 39 EUR per night.
Spot Town Hall Apartment (Didžioji gatvė, Vilnius)
Apartment near the town hall. Price 49 EUR per night.
60mq old town Apartment (Subačiaus gatvė, Vilnius)
Stylish apartment although slightly away from hot areas of Vilnius. Price 44 EUR per night.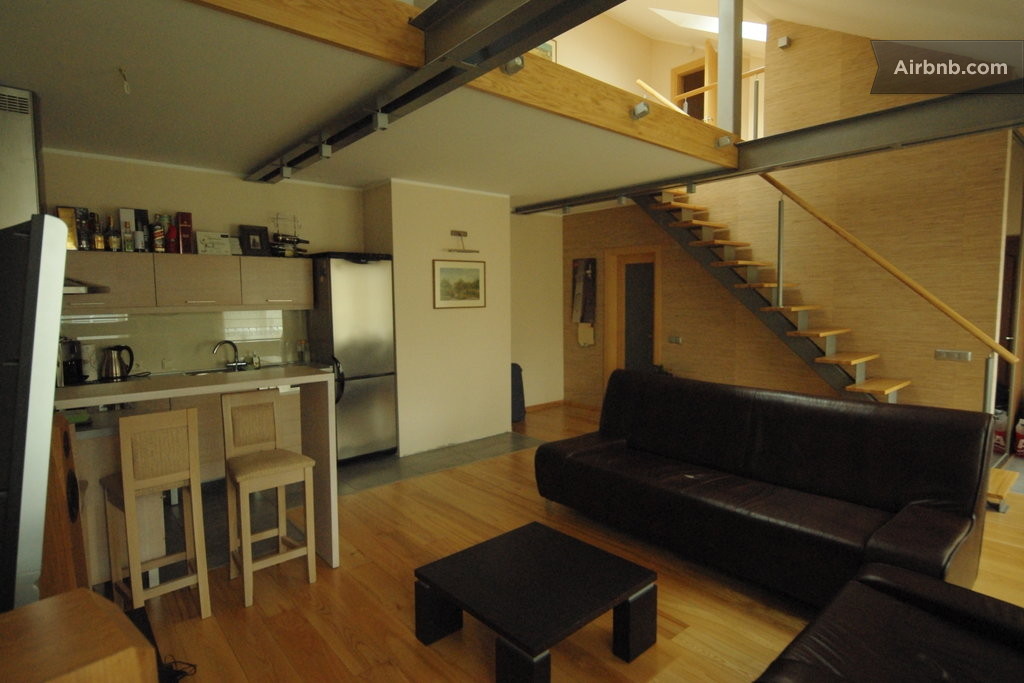 Hostels in Vilnius
In Vilnius there are many great hostels in the historic center at cheap prices. Ideal if you are traveling alone and want to soak up the atmosphere and life of the city.
Home Made hostel (Rudninku 13 – 5, Vilnius)
Jimmy Jumps House/Hostel (Savičiaus gatvė 12-1, Vilnius)
Hostelgate B'n'B (Mikalojaus Street 3/1, Vilnius)
Litinterp Guesthouse (Bernardinu Street 7-2, Vilnius)
Pogo Hostel (B. Radvilaites str. 3-1, Vilnius)
Hostelgate (Aušros vartų 17-1, Vilnius)
Hostel Jamaika (Visu Sventuju str. 9, Vilnius)